Adopting is a random process on the blockchain. Selecting a specific PITTYS below to adopt doesn't guarantee you will receive that pup.
Welcome to Pittys NFT - a collection of 5,000 generative Pits made with a goal to give back big to the pit community. Our team is experienced in both the dog space and crypto space- we are here to spread awareness, build a community - and most of all help some pups.
Director of Community
/ Partnership Growth
Pitty is an NFT project that is focused on giving back to man's best friend - and supporting one of the most misunderstood dog breeds.
50% of the coin tax and a portion of all NFTs sells will go directly to local and National Pitbull rescues. These organizations will be named and their payments will be hard coded into the Pitty Coin NFT contract. Choose Pitty if you want a project with incredible art that gives directly and immutably back.
What are the key terms to know before I get started?
---
Here's a list of key terms used in the NFT space and it's a helpful to review before you get started.
Non-Fungible Tokens (NFTs) – Non-Fungible Tokens (NFTs) are unique, digital items with blockchain-managed ownership. Examples of NFTs include digital art, collectibles, virtual reality items, crypto domain names, ownership records for physical assets, and more. For further information on NFTs and how we got here, read our CEO's ever-popular overview.

Ethereum – Ethereum is a blockchain, and ETH is the currency used to make transactions on the Ethereum blockchain.

Gas fees – Think of gas fees as Ethereum blockchain transaction costs. OpenSea has no say in setting gas fees – they are determined by supply/demand across the network (blockchain).

Crypto wallet – A crypto wallet is an application or hardware device that allows individuals to store and retrieve digital assets.

Wallet address – Your wallet address is unique. It's the address people will use when they are sending crypto or NFTs to your crypto wallet.

Seed phrase – Your seed phrase is a list of words that can be used to recover your crypto should you forget your password or lose access to your wallet. When you first begin trading with your wallet, find your seed phrase and back it up somewhere safe, in multiple locations if possible. Don't store your seed phrase on an online cloud storage service and never share it with anyone.

Collection – A collection is a body of work, like a store or gallery. If you see someone refer to an OpenSea collection as a store or gallery, don't get confused – it's all the same. We use the term collection to keep things simple.
---
What is a crypto wallet?
---
A crypto wallet is an application or hardware device that allows individuals to store and transfer digital assets like cryptocurrencies and Non-Fungible Tokens (NFTs). This guide breaks down the crypto wallet basics that you'll need to know before creating and trading items on Sweet. How do crypto wallets work? When you download a crypto wallet, you take control of two 42-character keys; a public key, known as your wallet address, and a private key. You can think of your public key as your shareable bank account info, so copy and paste it in when people ask for your address. Your private key works like a password and should remain private.
Crypto wallets and Sweet Decentralized applications, or 'Dapps' as many like to call them, work differently from traditional websites like eBay. When you purchase an item on Sweet, the funds go straight from your crypto wallet to the seller's wallet. There's no company in the middle holding the goods while the transaction goes through. If you've heard Sweet described as 'decentralized' or 'peer-to-peer', that's the context!
Security: Keeping your funds safe Understanding risk is key to successfully navigating the brave new world of crypto and NFTs. The fact that Sweet never stores your funds or assets means that we can't retrieve them if you lose access to your wallet or it's compromised.
If you forget your password, you can get access to your wallet via your seed phrase, a series of words that accompany all wallet addresses. It's good practice to write down and safely store your seed phrase in multiple places when you first download your wallet, so if you can't find it, search online for info or reach out to your wallet provider before buying NFTs or storing digital currencies. Now that you know what a crypto wallet is, check out which ones you can use with Sweet.
---
What is a Non-Fungible Token (NFT)?
---
Non-Fungible Tokens (NFTs) are unique, digital items with blockchain-managed ownership. Examples of NFTs include digital art, collectibles, virtual reality items, crypto domain names, ownership records for physical assets, and more. Don't get overwhelmed by the idea of fungibility, it's just the ability of a good or asset to be interchanged with other individual goods or assets of the same type. A simple comparison of fungible, semi-fungible, and non-fungible assets is pictured below.
---
Where can I check the history of an NFT?
---
One of the unique benefits of NFTs is the ability to track every transaction on the blockchain. Every NFT has an owner, creator, history, and this information or "provenance" is verifiable on-chain. On each item's page there is a section marked "Details" where you can verify details about the contract used to create it.
Clicking in will reveal important information about the NFT, such as:
- Contract address of the collection.
- Token ID of this particular NFT.
- Blockchain the NFT resides on, eg: Ethereum, Polygon, Klatyn.
- Whether the NFT metadata is centralized or "frozen".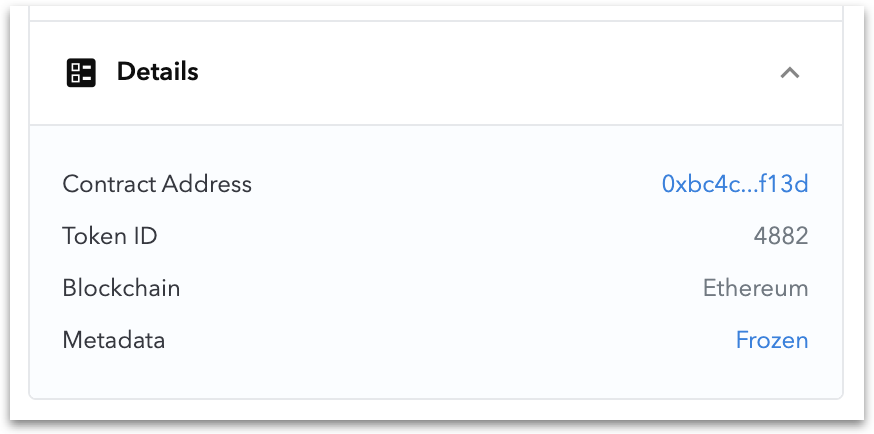 ---
Who pays the gas fees?
---
First-Time Sellers If this is your first listing with Sweet, sellers must pay two transaction gas fees to setup their account. This is a one time fee that you will not pay moving forward. Returning Sellers Sellers do not have to pay gas fees to "mint" each individual item until the item is sold. This is referenced as lazy minting, the NFT is minted upon sale vs minted upon listing. Sellers & Buyers There are gas fees when the item is sold and who pays the fees, depending on transaction.
Buyers pay the gas fees when purchasing fixed-price items.
Sellers pay the gas when accepting offers.
For more information on when Sweet users pay gas fees, please click here.
---
How can I stay safe and protect my NFTs?
---
Get support via official channels Customer support is never as fast as we want it to be (we're working on it), but soliciting help on social channels or Discord, where Sweet does not provide official customer support, can make you a target for scammers. We recommend only getting help via official channels, and if you do end up asking questions of the broader community, always be cautious. You can find answers to frequently asked questions and direct support on the Sweet help center. We've also posted other guides on our Blog. Never share your secret recovery phrase It may sound obvious to all the crypto veterans out there, but you can never hear it enough. Your wallet's secret recovery phrase is private to you and should never be shared, even with those you trust. Sweet is not a wallet provider and will never ask for your wallet's secret recovery phrase. For details on the best way to keep your funds and tokens safe, head to your wallet provider's website and browse the guides and tutorials. Make sure your wallet app or extension is the official one If you're downloading a wallet browser extension, make sure to get your link directly from the provider's website. When downloading an app, check the reviews and developer info to confirm you're getting the right one, and not an imposter. If you're unsure, there's no harm in reaching out to the provider to clarify. Never click on unknown or broken links Stay vigilant when browsing websites and interacting with others on social media or Discord. Avoid clicking on ads, images, or links sent by strangers. Never reuse passwords and use a password manager We've all done it, but reusing the same password across multiple accounts makes you more vulnerable to account compromises. A password generator or manager like 1Password or LastPass can make life easier if you're worried about getting lost in a web of special characters. Use Two-Factor Authentication (2FA) Enable two-factor authentication with apps like Google Authenticator and Authy, and avoid SMS 2FA where possible since it can be vulnerable to attacks. You may also want to consider upgrading to a hardware-based 2FA device for extra security. Google Titan, Thesis, and Yubico are some of the options available. Use a crypto hardware wallet Using a hardware wallet adds another layer of security for your funds and NFTs. Many users tend to go with Ledger or Trezor. For extra security, consider using an "air-gapped" computer with your hardware device. An air-gapped computer is one that has never been connected to the internet before. However, like other hardware items, you need to make sure to keep your wallet secure and not lose it! Limit smart contract approvals If you are using MetaMask, make sure to frequently review your spending limit when approving transactions. To do so, click "Edit on Permission" and customize the spend limit for each currency. For more context and info on how to do it, check out this Twitter thread. Avoid cold emails and downloading files from strangers It's best to not interact with emails, files, and QR codes sent by strangers. Attachments of all formats, including PDFs, have been known to contain harmful viruses or malware. If it seems too good to be true, it probably is Sadly, there are bad actors looking to take advantage of those new to the world of NFTs. If someone offers you something that looks too good to be true, it probably is. Before you purchase an NFT from a seller on Sweet, make sure you take a second to do your research on the seller, the collection, the NFT, and the NFT's history prior to pulling the trigger. Transactions on the blockchain are irreversible so doing your due diligence is critical — and it can also be fun to dive into the story behind each NFT!
---
---
Kindly fill the form below our team will get back to you as soon as possible.